Islands that may disappear in 80 years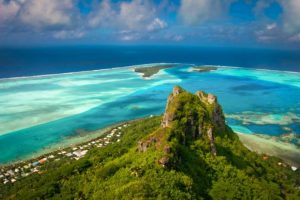 Around the world, many islands are slowly but surely immersed in water. Try to have time to see them firsthand, because it is possible that the next generations will no longer be able to admire their beauty.
● Solomon Islands
Solomon Islands (Pacific Ocean) are steadily captured by water. According to reports in 2016, five islands have already been completely flooded, and on other islands with retreating coastlines, several settlements have disappeared, which have been there since the 1930s.
● Maldives
On this archipelago (Indian Ocean) are located luxury resorts and luxury hotels, but it is also slowly conquered by the ocean. Given the current forecast of rising water levels, the Maldives may disappear in 80 years.
● Palau
The water level in Palau (Pacific Ocean) rises by 1 cm annually since 1993, which is about three times the average on the planet. According to forecasts, by 2090 this growth will reach almost 60 cm. The islanders complain that their sections are flooded during the ebb and flow of the full moon and are already considering moving.
● Micronesia
Micronesia is a country of 607 islands located north of New Guinea (the Pacific Ocean). The area is just over 700 square meters. km covered by mountains, lagoons and mangrove forests. Due to the onset of water, several islands have already disappeared here, while others have significantly decreased in size.
● Fiji
Fiji's Pacific Islands are also vulnerable to the onset of water. Over the past few decades, 15–20 m of the coastline has disappeared near several settlements, and by 2050 the water level will rise another 43 cm. Rising ocean temperatures also affect coral reefs, which are slowly dying.
● Tuvalu
The government of Tuvalu (Pacific Ocean) has been sounding the alarm for a long time, because the island is going under water at a crazy pace, which could lead to a complete disaster for its 10 thousand inhabitants.
● Seychelles
Seychelles (Indian Ocean) are experiencing an unprecedented rise in water levels, and the consequences can be disastrous. Local mangroves and coral reefs are also at serious risk of extinction.
● Kiribati
Already developed a plan for the resettlement of people living on this island (Pacific Ocean), of course, because of the onset of the ocean. The President of the Republic stated that "moving will not be a matter of choice; it will be, in essence, a matter of survival. " In fact, his country will become uninhabitable by 2050.
● Cook Islands
Cook Islands near New Zealand is another risk zone. Rising sea levels of up to 55 cm by 2090 are predicted, which means rising water will cause damage to the entire local infrastructure, which will affect residents and tourism.
● French Polynesia
It is here that the popular resorts of Tahiti, Bora Bora and Society Islands are located, French Polynesia is also under threat, and already in the next century. By the end of the 21st century, 30% of its territory will be captured by water. As an alternative to moving to a new country, the government is considering the possibility of building "floating islands" near Tahiti for residents.
● Tangier Island, Virginia
Tangier Island (eastern coast of Virginia) is only accessible by water or air. It consists of narrow streets, natural beaches, lovely souvenir shops and shops with ice cream. However, from 1850 almost 60% of the island went under water, and the rest of the land is expected to disappear over the next 25-50 years.
● Marshall Islands
They are located between Australia and Hawaii. The onset of the ocean here is twice as high as the world average. The water level is projected to continue to grow by 20 cm by 2030, increasing storm surges and coastal flooding.
● Shishmaref, Alaska
This small island, where 650 people live, has been submerged in water for the last 50 years, having lost 30 meters of the coastline since 1997. It is possible that the island will disappear completely in the next 20 years. One of the islanders admits that he already had to change 13 houses because of the loss of land.