7 places in the world that seem to have disappeared from the pages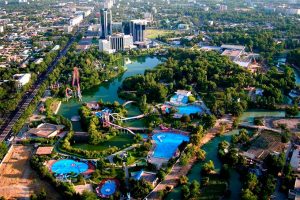 We buy all sorts of guides to find the most interesting place that you can remember all your life. But no one knows that what we read about in books really exists in reality, and is not an excellent idea of ​​the author. How do you respond to the fact that we have found for you 10 places that the writers praised in their works and to which the characters of their books were sent? They will tell you more than any guidebook and send you on an unforgettable journey.
Tashkent, Uzbekistan
Dina Rubina, the author of numerous detective books and novels, dedicated one of her works to her native city. The book "On the sunny side of the street" not only became a bestseller, but also showed that a good life does not always need the sea near the house and a chic European penthouse.
Venice, Italy
In Ernest Hemingway's work "Beyond the River, in the Shade of Trees", one can hardly notice that romantic town with postcards and original masks. Venice is presented to us on the other, sad and overcast side. The story of a simple colonel takes place on narrow streets and in old cafes that can be visited today.
Chicago, United States
"On the shore of the shimmering lake, this king city lies in tatters and patches …". It was about Chicago that Theodore Dreiser wrote in "Titan", in which the main character Kaupervud shows us all the vastness that overwhelms this foggy city.
Devonshire county, UK
The kings of detectives Holmes and Watson in one of their adventures are sent to the Baskerville manor, which can be found today. Sir Arthur Conan Doyle actually described the county, which is characterized by all the landscapes described by him: green hilly pastures, houses with sharp roofs, dark streets and an atmosphere that encourages every second to adventure.
Tallinn, Estonia
Who would know that Sergei Dovlatov's "Compromise" collection is dedicated to this small town of the Baltic region. He, of course, does not describe the city with all its sights, but at the same time he notices something that no guidebook will tell you about.
Berlin, Germany
Nabokov can probably be called the main fan of Berlin. He mentions it in his three novels – "The Camera of the Obscura", "The Protection of Luzhin", "Goodness" – and does not miss the opportunity to once again acquaint the reader with all the mysterious aspects of the city life.
Perm Region, Russia
The most fascinating places are not only on remote islands. This is once again proved by Aleksey Ivanov, who has written the Geographer Globe Propyl for one of the best books of the last decades. Through the experiences and life of the main character, he discovers for us those beauties of his native land, which stop breathing and change the life of any tourist and a simple man in the street.