8 cities of the world that are considered a gourmet paradise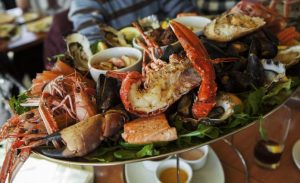 Since the kitchen is the main "chip" of many cultures, it is not surprising that the direction of "gastrotur" is quickly gaining popularity. Sometimes food can even become the main reason for choosing a tourist destination. In such tours you will meet with incredible restaurants, cute cafes, luxury markets and see a lot of interesting things.
1. Barcelona (Spain)
Since the El Bulli restaurant was in the top list of the world's leading institutions, the gastrotour to Barcelona became very popular. Most routes offer visits to the stunning market of Boqueria (Boqueria). In addition, there are excursions to the most popular tapas bars, as well as not very popular restaurants and gourmet restaurants.
2. Osaka (Japan)
Gourmets have always loved Japan. Given the current trends in terms of healthy eating and the incredible popularity of Japanese food, a visit to restaurants and Osaka markets is one of the best and most memorable tourist tours. It is believed that the best restaurants in Japan are located in Osaka. Going to a gastrotur? Be sure to try Takoyaki (octopus slices in dough) and Kushikatsu (skewers on skewers).
3. Singapore
Places street trading – a very interesting experience. They are usually located benches and trays, which sell delicious and cheap dishes. And the air around is filled with rich aromas of spices from all over Asia. Do not miss the chance to taste laksha, curry soup with coconut and rice noodles. The most interesting gastrotur is a food safari from the company "Makansutra".
4. Brussels (Belgium)
Belgian food is not only beer, chocolate and fried mussels. Believe me, Brussels is an amazing place to learn the peculiarities of the local cuisine, although most Belgian dishes still have strong French influence. If you are a beer lover, there will be a gastrotour for you, where you will be taught the art of combining this drink with other products.
5. Cape Town (South Africa)
Long Street in Cape Town abounds in a variety of ethnic restaurants and excellent bars. You can go on a gastro tour with a stroll through Bo-Kaap and enjoy local Malay dishes there. Another interesting destination for gourmets is the picturesque coastal town of Camps Bay with a host of luxurious establishments.
6. Buenos Aires (Argentina)
This country is famous for beef, and therefore the most delicious steaks can be found mainly in Buenos Aires. The Argentine capital, of course, considers them to be their national dish. For gourmets here, too, you can find a gastrotur for the soul, but Parrilla Tour is designed specifically for true lovers of steaks. If you are looking for a more varied tour, then the Buenos Aires First Culinary Walking Tour (the No. 1 culinary walking route in Buenos Aires) will suit you.
7. San Francisco (USA)
San Francisco is one of the best cities for gourmets, especially when it comes to seafood that goes to restaurants directly from Fisherman's Wharf. In addition to seafood, there is a wide choice of other dishes, including Chinese and Italian cuisines, where you can try something new and tasty.
8. Edinburgh (Scotland)
If you want to list the traditional dishes of Scotland, then I remember mostly haggis and oatmeal. However, lately this country has resolutely changed its culinary outlook and has become very attractive for gourmets. The capital of Edinburgh is definitely one of the best destinations for food lovers! Various travel agencies in Edinburgh will help you find your gastrotour, so you can enjoy not only the sights of the city, but also its best restaurants.