Scenic tourist destinations that are definitely worth a visit.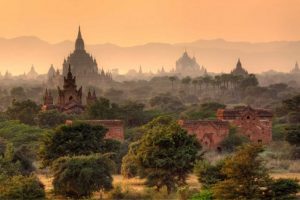 We suggest you to get acquainted with the places that are not so popular now and are in demand among tourists. However, they are no less exciting and picturesque than the most famous tourist destinations in the world. By the way, they have a definite plus: the absence of curious crowds of people with selfie sticks, smartphones and cameras.
1. Jose Ignacio
Only three hundred people live in this Uruguayan city, but in winter (that is, summer in South America), there are more people in Jose Ignacio. There are hotels and cafes here, and this is probably the ideal choice for those tourists who want privacy, privacy and just relaxing on the beach.
2. Ko Rong
Do you want to run away from our blessed civilization? Then go to the Cambodian island of Koh Rong. You will not see here the skyscrapers and cars, and you will not hear the usual noise and gig of megacities. You will be surrounded by silence, villages of local fishermen and wildlife.
3. Bangladesh
This amazingly beautiful country has a very interesting culture and a no less interesting history. Tourism, it must be admitted, is not up to par in Bangladesh, but if you get there, you can see the palaces of Maharaja, the longest beach in the world and mangrove forests.
4. Sofia
This is a relatively inexpensive city when compared to other European capitals, and here is a very beautiful architecture. Experts say that the Bulgarian capital will not remain in the shadows for a long time – very soon the tourists will consider it, and there will be a lot of them here.
5. Ambergris Cay
Who just did not live on this Belizean island! Maya Indians, pirates and even whale hunters. And now Ambergris Cay is a magnet for divers from everywhere. What attracts them? Of course, the Belize Barrier Reef.
6. Burma (Myanmar)
In 2010, this Asian country was visited by 300 thousand tourists, and after three years there were already several million visitors. The tourism industry is developing here by leaps and bounds, but you, of course, can find quiet corners: for example, take a ride on the picturesque Inle Lake or watch the sunset over the Shwedagon Pagoda.
7. Roatan Island
Tourists began to get to the shore of Roatan only since 2005. Alas, Honduras cannot be called a safe country. And this island became popular due to divers: they are definitely attracted by the Mesoamerican Barrier Reef, where you can dive enough.
8. Puglia (Italy)
This is not only the azure sea, but also the mass of historical sites. In this southern region are the Church of Santa Croce, the medieval castle of Mola di Bari, the Museum of Archeology of Rignano Garganico and many other historical sites.
9. Zimbabwe and Zambia
It is here that the world famous Victoria Falls is located. And next to it is the large Hwange Park, a less well-known local landmark. The park is really huge: there are many lakes in it, as well as representatives of local flora and fauna. In Hwange, by the way, there is a large population of elephants (several tens of thousands).
10. Busan
Do not rush for the crowd in Seoul, because you can visit the city of Busan. First of all, there are a lot of gorgeous beaches: for this, Busan was nicknamed the summer capital of South Korea. Be sure to visit the local museums, chic fish market and ornithological reserve.
11. Manila
In the Philippine capital inexpensive, but very tasty food. There are also many beautiful places to explore: churches and basilicas, Buddhist temples and mosques, museums and parks.
12. Phu Quoc Island
This is truly a heavenly place with amazing beaches, clear water and a jungle of rich green color. Rest on this Vietnamese island will give you an indescribable feeling of absolute unity with nature.
13. York
It is one of the oldest and almost mystical cities in Britain, although outwardly it looks like an ordinary traditional and patriarchal English city. The main pride of York – is his cathedral in the age of five hundred years.
14. Kep
From the very beginning of the 20th century, this city was the favorite place of the French elite, who came here to relax. Everywhere there were chic restaurants and villas. However, after a long civil war in Cambodia, all this brilliance and luxury remained only ruins. Nevertheless, Kep and now can be called a great place for a relaxing holiday.