Unique islands on which you must visit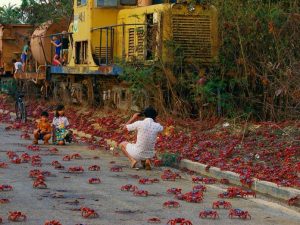 Our world is a tiny point in the immense Universe. Realizing this, we strive to find out, and what stands above us. We launch rockets that cut through space and dream of conquering unknown planets …
But beauty, like a riddle, is very close! And both of them are on our home planet.Today we will share with you unusual islands that you should definitely visit. So, write in the column "goals".
1. Ayl Mulc
Our highlight list opens in Palau. The fathomless Pacific Ocean washes over more than three hundred islands of this republic, but we are only interested in one of them – Ail-Mulk.It is here that there is an unusual lake, which, at first glance, seems completely unremarkable. But it is really unique in its kind. The fact is that more than 10 million jellyfish inhabit its waters! Moreover, it is perfectly safe to swim with them for one simple reason: due to the lack of natural enemies, the tentacles of jellyfish have lost the ability to sting.Here you will meet mainly with one species – the golden jellyfish. One of its main parts is algae, which need sunlight for development. This factor makes the whole flock regularly cross the lake, which looks very impressive.
2. Socotra
Here we are in for a fairytale world – the island of Socotra in the Republic of Yemen, completely woven from incredible trees and fantastic animals. Socotra is part of the archipelago of the same name, which is included in the UNESCO World Heritage List. This has already said a lot.Most of those plants and animals that you find here are not on any island on Earth. Scientists say that only rare plants here are about seven hundred pieces, and many of them decorated the Earth millions of years ago!Getting here, you feel like visiting aliens …The symbol of Socotra is the unique Dragon Tree, which resembles a large mushroom with a green crown. It is about the height of a five-story building! And its bark produces red juice, the purple gum of which is used for medical purposes.
3. Christmas Island
Now we wander to Australia, and again to the Indian Ocean. Here us
meets Christmas Island, or to be more precise – its unique inhabitants – red earth crabs.Every year, during the mating season, tens of millions of these unique crabs crank a multi-kilometer journey to the beach. Their goal is to lay eggs in the waters of the ocean. This migration has become a real attraction of the island! Crabs are not afraid of cars on the roads, or residential buildings with their inhabitants – they will go to the end. On average, they need about 18 days to get to the cherished place.It is impossible to miss the opportunity to observe firsthand this "red marathon"!By the way, in order to reduce the death of arthropods on the roads, the Australian authorities are building special bridges and underpasses for them. It looks spectacular.
4. Joal Fadiut                                                                                                                                                                                                                                                                                                                                It is famous for the fact that its entire surface is covered with mollusk shells! Legend has it that the shells ejected by the fishermen over time have grown together with the soil, thanks to which the landscape has acquired such a snowy look.It is forbidden to drive cars here. Yes, and you only benefit from this – almost all the tourists are in awe of a walk on this crispy curtain. Moreover, the locals are not averse to making anything from the shells. They also use them in the construction of buildings, street decorations and housing.
5. Madagascar
Completes our list of a truly amazing island – Madagascar!It is not only one of the largest islands in the world, but also one of the most amazing. For the uniqueness of the flora and fauna, Madagascar was nicknamed the "small continent": out of 12 thousand animals and plants, about 10 are endemics, that is, they live only in this place. Therefore, it is not surprising that the island has more than a hundred protected areas and as many as three national parks.Here you will wander through many pristine beaches and enjoy the colorful landscapes. Talk to the lemur, which has more than 30 species here!Of course, Madagascar is a paradise on earth. It is impossible to bypass it. It remains only to admire and dream. On the other hand, no one can prevent you from fulfilling this dream!