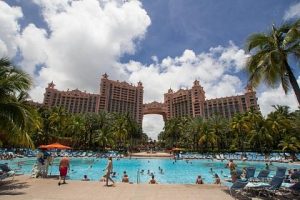 Beaches
Almost every island in the archipelago has excellent beaches. Clean white sand, convenient entry into the water and warm water attract millions of travelers to the Bahamas.
The most chic are the beach areas of New Providence, especially Cable Beach. Here you can sunbathe and swim. If you wish, you can take a look at the local casino or go through the original bridge to Paradise Island. Continue reading →
It is difficult to say how many places in Azerbaijan that would be interesting to visit every avid traveler. There are thousands of them! Many of the most unforgettable historical and cultural monuments are concentrated in the country's capital, Baku:
amazing old Maiden's Tower (its height is 29.5 m);
the so-called "Baku Acropolis";
Shirvanshahs Palace; Continue reading →
In Austria, a huge number of resorts are located from Bad Hall in Upper Austria to the Salzkammergut, from the magnificent Gasteiner Ache valley to Zolébad Hall in Tirol. People come to Austrian resorts from all over the world to improve their health and pamper themselves. Resort relaxation can be combined with golf, hiking, skiing and sightseeing tours. Or with a wine tasting – Baden-by-Win, located in the Vienna Woods, is surrounded by hundreds of vineyards and dozens of wine taverns (Heurigen). Continue reading →
Beach vacation. The main place for lovers of this type of recreation is the Gold Coast (Gold Coast), the area between Sydney and Brisbane. Sandy beaches stretch along the coast for 40 kilometers. Here everything has to active recreation and entertainment: golf courses, amusement parks, safaris, night clubs and discos.
Diving. Great Barrier Reef – Mecca for scuba diving. Continue reading →
Abkhazia includes seven historical regions and the same municipal districts. Each of them belongs to the coastal areas and mountain areas. The coastal strip with rather smooth outlines abounds in beaches: spacious sand-pebble and rocky wild with a narrow shore, crowded public and respectable – from those that belong to boarding houses and hotels. Much of the coast has not yet been mastered. Continue reading →